Thought Field Therapy (TFT)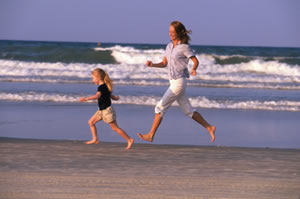 The power therapy for the 21st Century.
TFT is extraordinarily powerful, with individuals receiving nearly immediate relief from their suffering.
TFT has no adverse side effects. is simple and painless.
TFT does not require the client to talk about their problem something which often causes distress or embarrassment and prevents people seeking treatment in the first place.
TFT is extremely efficient with treatment times of 10 minutes or less not uncommon.
TFT is easy to do and can be used with children.
TFT is literally Tapping into Nature's Healing System.

WHAT IS THOUGHT FIELD THERAPY?
Over 25 years in Development, Thought Field Therapy (TFT) provides a healing code to our bodies own healing system to address emotional and psychological issues. TFT utilises easily accessible acupressure points which the client activates themselves by simply tapping them with the fingers whilst thinking about the specific problem. This process using a code given by the therapist balances the body's natural energy system, allowing you to eliminate most negative emotional distress within minutes and promote the body's own healing ability.
HOW DOES IT WORK?
TFT is based on a new theory about how negative emotions develop. Conventional medicine assumes that our brain and mind are the same thing and emotional problems such as anxiety and depression are caused by structural or chemical abnormalities in the brain. These many believed were only correctable by drugs.
However, TFT founder, Dr Roger Callahan, believes as others that the mind is contained in a field which surrounds the physical body. That when we think of anything we 'tune in' to an individual 'thought field' and when we feel distressed, there is a 'perturbation' in the thought field that triggers the distress.
By tapping on specific sequences of meridian points on the body, these perturbations are eliminated and the distress disappears. Rather like discovering the key to a combination lock controlling negative emotions and turning them off.

IS TFT SUITABLE FOR CHILDREN?
YES. They are particularly responsive to the treatment and enjoy it. Its simplicity and safety make it especially suitable for nervous children whose anxiety makes conventional treatment difficult. There is also no age barrier. All that is needed is that the child understands and obeys simple instructions.
DOES THE EFFECT ENDURE?
Yes. The therapeutic effect is predictable and immediate with the majority of simple problems being resolved over one to three sessions. We teach clients how to help themselves using TFT and as it's so quick and simple recommend that clients continue self-help to maintain the balance to be happier and healthier.
IS TFT PAINFUL TO APPLY?
No. Thought Field Therapy is completely pain free. There are no drugs, needles or any other instruments involved. You, yourself are talked through the process and then under the direction of the therapist tap the pints on your body yourself.
WILL I HAVE TO TALK ABOUT OR CONFRONT MY PROBLEM?
No, but you will need to tell the therapist what emotion it is, e.g. a fear of flying. There is no need whatsoever to talk at length about your problem over many hours of consultation. We are very aware that this could be difficult for you.
HOW WAS TFT DISCOVERED?
TFT was invented and developed by Dr Roger Callahan, one of American's most distinguished and experienced clinical psychologists. Unhappy with the results of conventional therapies, he became interested in Applied Kinesiology, which involves the body's energy meridians.
The first person to experience and benefit from the amazing results of TFT was Mary, who had an extreme phobia of water. Dr Callahan had treated her for 18 months using conventional techniques, without success until one day she said she felt "sick to the stomach"'.
Dr Callahan knew of a stomach meridian point under the eye and when this point was tapped, Mary's lifetime phobia promptly vanished.
Both were amazed and the phobia has stayed away to this day.
Excited, Dr Callahan repeated this technique with other phobia sufferers but it only worked on some. However, he'd discovered something very important and after years of research, experimentation and development we have TFT. A completely safe self-help therapy.
WHAT IS TFT USED FOR?
Phobias, traumas, anxiety, depression, OCD, stress, panic attacks, jealously, grief, anger, pain and numerous addictive urges including alcohol and most emotional problems can all be cured using TFT.
It's also used to overcome performance barriers in business, sales, sport and the arts. Problems previously difficult to treat can also be addressed, such as jet lag and problems with visualising, with new uses being discovered all the time.
The benefits of TFT can be seen by clients using Heart Rate Variability monitors, and some with post viral fatigue, MS and ADHD have seen improvement.
"TFT – a revolutionary practice that is the single most effective way of taking the emotional sting out of your anxiety."
Gloria Thomas, author of 'Anxiety Toolbox'